But a natural oil hardwood finish means that pretty soon you won't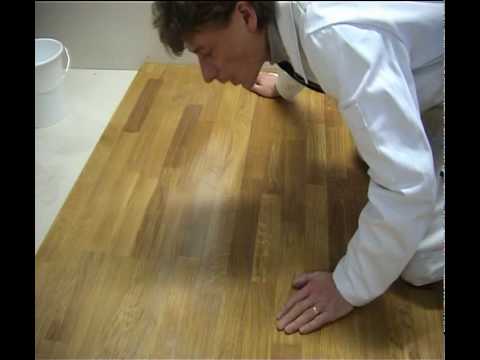 There is something we like about natural hardwood floor finishes even more than the fact that they are low odor and low VOC (Volatile Organic Compound), says Roy Young, quality control manager for Schumacher & Co Custom Hardwood Floors in Cincinnati, OH.
"It's the wonderful, natural appearance that accentuates the character of the wood," he says.
And unlike floors finished with polyurethane, an oil finished floor that gets scratched can be easily repaired – as shown in this video – without refinishing the entire floor.
Natural oil or wax finishes penetrate into the wood and protect it from within rather than lying on top of the wood like polyurethane.  Another major difference is that polyurethane has a threshold for the number of coats or applications that it can sustain before you develop cosmetic and adhesion issues, Young says.
"Typically three is the max," he says.
An oil or wax finish, on the other hand, can be maintained and re-applied almost indefinitely.  Another benefit for oil and wax over polyurethane is that with each application of the products, the minor, visible scratches and indentations can actually diminish over time with each application because the oil and wax soak into the wood grain and re-expand the wood fibers that have been compressed, Young says.
"When attempting a repair with polyurethane, it is very difficult to replicate the surrounding appearance, mostly  because of the number of steps and variables to tend to," Young says. "Each step opens more potential for inconsistency.  The repairs with oil and wax products have fewer steps and can be feathered and buffed into the surrounding area, while a polyurethane repair is dealt with independent of the surrounding flooring."
So why aren't all hardwood floors finished with oil?
Because, Young says, some people don't like the fact that most oil and wax finishes must be maintained.  This means a cyclical maintenance schedule to restore the original condition.  This timeline is typically somewhere between twelve and eighteen months depending on a home's usage and traffic.
"What people don't realize is that this is much simpler than re-coating with polyurethane because we can actually localize and focus on the highest traffic areas without having to empty an entire space," he says.
Schumacher & Co. recently began using Osmo Pro Polyx-Oil, which is said to be more durable than many similar finishes.  In fact, the company touts tests done in Germany that show it's durability to be comparable to polyurethane.
Regardless, for many people, the advantages outweigh the inconvenience of maintenance, Young says.  Osmo is made mostly of natural oils, with a VOC (Volatile Organic Compound) level of less than 50 grams per liter. This is well below the most stringent standard – 275 grams per liter– in the United States today, set for the state of California.
For those who insist on polyurethane, Schumacher & Co. does offer several low VOC options. ©
– Posted by Nancy
---