Luxury Vinyl Tile's realistic patterning and glue-less installation boost demand despite uncertain "green" product attributes
A floor does not have to be natural to look natural. And the new natural looks of a number of luxury vinyl tile (LVT) brands – coupled with glue-less installation options — are noticeably boosting LVT sales.
Newer, self-locking installation systems do not require adhesives for installation, and replication improvements mean fabulous imitations of wood, ceramic and other patterns.
"Gone are the days of needing adhesive," says Ben Lanich, manager of Carpetland Carpet One in Cincinnati. "This enables the products to be more versatile, both in their installation and repair processes. Not to mention they are 100% waterproof." Read the rest of this entry »
Comments: No Comments »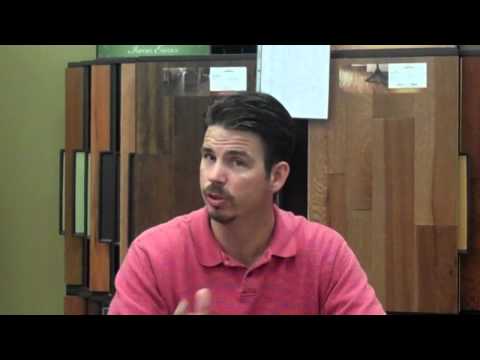 Part  Two: What's the best way to clean hardwood flooring and what does moisture do?
Ben Lanich, manager of Carpetland Carpet One Floor & Home in Cincinnati, OH, puts some common hardwood flooring questions to hardwood expert Dan Fergusen. Carpetland also offers low-VOC and natural hardwood finishes, both prefinished and site-finished. Lanich's store is located at 10101 Springfield Pike, Cincinnati, (513) 772-3456.
Comments: No Comments »
Archive
Promotional pricing on strand bamboo from USFloors for customers in Ohio, Kentucky and Indiana Natural Bamboo Expressions from USFloors — self-locking strand bamboo – is available at the following promotional prices from Oct. 20 through Nov. 30, 2012. Orders will be processed and delivered by the Natural Interiors® Design Center near you. View selections here.  [...]
Part One: Site-finished vs. prefinished, and solid vs. engineered Ben Lanich, manager of Carpetland Carpet One Floor & Home in Cincinnati, OH, puts some common hardwood flooring questions to hardwood expert Dan Fergusen. Carpetland also offers low-VOC and natural hardwood finishes, both prefinished and site-finished. Lanich's store is located at 10101 Springfield Pike, Cincinnati, (513) [...]
New Natural Interiors® scorecards are more credible with third-party certifications, but when do you make exceptions? Q. I was excited to learn about the Natural Interiors health and environmental scorecards that are now available at Carpetland Carpet One, Buddy's Flooring America in Beavercreek and ProSource in Cincinnati. What I like most is that most Better [...]
Top southwest Ohio flooring retailers end confusion over conflicting "green" claims with Natural Interiors® Scorecards Forty-nine percent of the hardwood flooring lines sold at Carpetland Carpet One Floor & Home in Milford, OH, have been tested and independently certified to meet healthy indoor-air quality standards. Seventy-four percent are from companies that have Forest Stewardship Council [...]
 Natural flooring leaders add Natural Interiors® Four of southwest Ohio's top flooring retailers now are Natural Interiors® Design Centers. Starting today, product certifications and traits that show whether a product is Better for People or Better for the Planet will be readily available to customers at Carpetland Carpet One Floor & Home in Milford, Schumacher [...]
Do synthetic backings on natural carpeting defeat the purpose? Q. I have been looking into wool carpeting because wool is a natural fiber that does not emit chemicals.  But I am learning that most wool carpets have plastics and other synthetics in the backings, and they also are treated with moth proofing agents, which many [...]
Requirements for damp basements might challenge use of all natural, chemical free carpet pads Q. I want to put carpet that has low chemical emissions in my basement. I also had planned on using a natural fiber carpet pad. I have not ever had water leak into the basement, but there is some moisture, due [...]
Competition in strand bamboo means quality products and competitive pricing from many manufacturers Not long ago, we would have told you that there were just a few reliable brands and several hard-and-fast rules to follow when choosing a strand bamboo floor. But as sales of strand, stained and hand-scraped styles have soared and now dominate in the [...]