Organic comforters have been claimed, but there's still time to win some low-VOC paint
There are two days left to answer questions in the Natural Housewife 2012 Contest. The top three winners – those who will receive organic comforters from Vivetique Sleep Systems – have been selected and will be announced next week in a post that shares their natural tips!
But because a multitude of additional entrants answered only a few of the six questions in the contest, we will continue to receive entries for fourth- and fifth-place prizes – a room's worth of Earthpaint – until 5 p.m. eastern time June 15. Read the rest of this entry »
Natural Housewives just ask
Touring an allergy-friendly home by Dancraft Construction at the recent Eco-Rehabarama home show in Huber Heights, OH, the Natural Housewife demonstrates that all you have to do is ask — then look for product certifications.
In answer to her first question, we are getting this video explanation of how the home's ventilation system is better for people. Watch it, then read the rest of this blog to learn about the other green products in this home.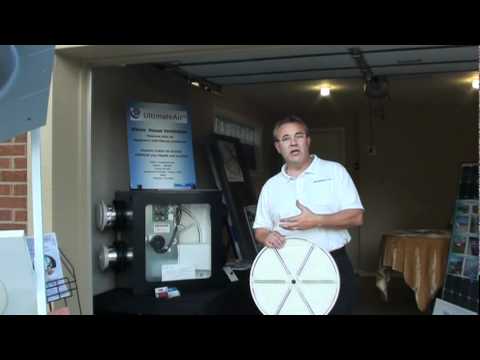 This home has a high efficiency 96-percent condensing furnace while an Ultimate Air Energy Recovery Ventilation (ERV) unit has been added to the ductwork, explains Dan Swank, owner of Dancraft Construction.  The whole house ventilator removes stale, contaminated indoor air and replaces it with highly filtered, fresh air from outside, creating a healthy and comfortable environment. Read the rest of this entry »
One answer is not enough to win Only one of more than 50 contestants in The Natural Housewife Contest 2012 has answered all four of the weekly questions posted to date. There are three top prizes — a $600 organic comforter from Vivetique Sleep Systems. This means that two new or existing contestants who submit [...]
You don't have to be a housewife to enter Some of you have asked. No, you don't have to be a housewife, and yes, if you are in the top three, you will choose the size and style of your Vivetique Sleep Systems comforter.  It also is possible to skip a question and still be [...]
Better for people? Better for the planet? Let the contest begin! If you have read the rules and contest details, you know that three winners will receive luxurious organic comforters from Vivetique Sleep Systems and two more will each get a room's worth of Earthpaint. And you know you will get the weekly, multiple-choice questions [...]
Fourth and Fifth Place Winners Will Get Earthpaint In addition to organic comforters from Vivetique Sleep Systems for the top three winners, two more winners will each receive a room's worth of Earthpaint in the Natural Housewife Contest 2012. Earthpaint is low-VOC (Volatile Organic Compound) and low-odor. Get contest rules here, and hurry, the contest [...]
 Contest winners to receive organic comforters from Vivetique or a room of Earthpaint The theme of this year's Natural Housewife Contest takes hold during a vacation on the Gulf of Mexico, where The Natural Housewife tells us it's time to take actions that are better for people or better for the planet. Part of doing [...]
Earthpaint prompts pre-show excitement at Eco Rehabarama Unexpected excitement has erupted on the jobsite of a home Dancraft Construction is remodeling for the upcoming Eco Rehabarama home show in Huber Heights, OH. The painter was so surprised by the performance and low odor of the Earthpaint purchased from Greener Stock in Cincinnati, that the work [...]
 A Solution Made From "Dirt and Water?" Like other participants in our rebuttal series, Earthpaint disagrees with builders who say low VOC paints don't perform well.  While this video won't give you an Earthpaint demonstration, it will give you something that is equally important. Increasingly, science is telling us that there are limits to the [...]