Rising interest in less-toxic hardwood floor finishes has some installers testing and expanding the choices
The site-finished hardwood floor has long been touted as virtually indestructible.  It will show scratches and wear over time, but all you have to do then is have it recoated with finish.
This sounds simple enough. But with today's emphasis on healthful indoor air quality and products that emit fewer chemicals, the number of hardwood finishes to choose from can cause confusion.
Natural wax and oil finishes have been a mainstay in some countries for as long as there have been hardwood floors.  They are now starting to get more visibility in the United States — where polyurethane finishes prevail — as more homeowners seek a more natural indoor environment. Read the rest of this entry »
But a natural oil hardwood finish means that pretty soon you won't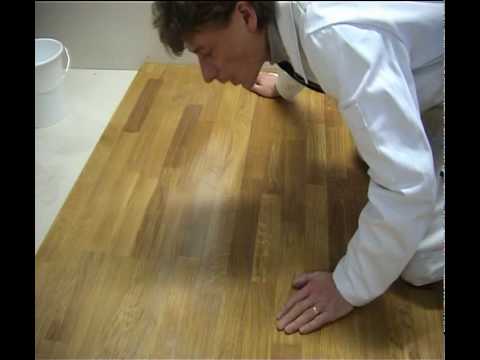 There is something we like about natural hardwood floor finishes even more than the fact that they are low odor and low VOC (Volatile Organic Compound), says Roy Young, quality control manager for Schumacher & Co Custom Hardwood Floors in Cincinnati, OH.
"It's the wonderful, natural appearance that accentuates the character of the wood," he says.
And unlike floors finished with polyurethane, an oil finished floor that gets scratched can be easily repaired – as shown in this video – without refinishing the entire floor. Read the rest of this entry »
Oil-based polyurethane, water-based polyurethane or natural oil? Q. We are building a new home, and our builder is insisting that our hardwood flooring should be finished with oil-based polyurethane. He says it is the best, but we want a low-VOC finish, either with a water-based or natural oil finish. Is there some reason our builder [...]