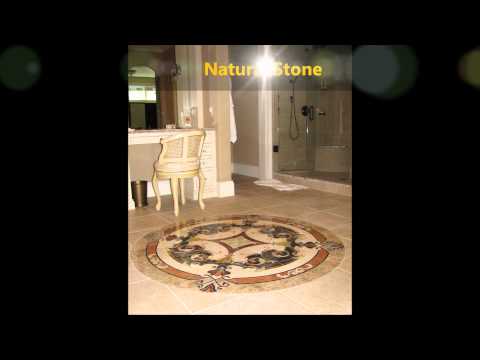 Natural flooring leaders add Natural Interiors®
Four of southwest Ohio's top flooring retailers now are Natural Interiors® Design Centers. Starting today, product certifications and traits that show whether a product is Better for People or Better for the Planet will be readily available to customers at Carpetland Carpet One Floor & Home in Milford, Schumacher & Co. Custom Hardwood Floors in Milford, Buddy's Flooring America in Beavercreek and ProSource Wholesale Floorcoverings in Cincinnati.
This video shows many of the "green" choices they offer and more about the Natural Interiors®  scorecards.
Comments: 3 Comments »
New looks, including stone, wood and textiles, expand uses for cork flooring
What is that? Just when we thought we had seen every style and color of cork flooring available today, Wicanders has thrown us a curve.
Some of it looks like stone. Some of it looks like marble, granite, wood and textiles. But it is an illusion, enabled by the latest digital optic technology that embosses these patterns directly onto the cork.
"You cannot tell its cork until you touch it," says Tim Tompkins, national marketing director for Wicanders. "We are able to print these patterns directly on our cork veneers. The texture of the cork veneer beneath it adds more texture and realism to the finished product, and each floor is a fingerprint of itself as no two planks, panels or tiles are identical.  It's very amazing technology." Read the rest of this entry »
Comments: No Comments »
Archive
Unique accent walls and backsplashes are a natural fit for some flooring stores I wasn't looking for tile, mosaics or recycled glass when I went to the Buddy's Flooring America store on Ridge Avenue in Cincinnati. But there was something magnetic about the eye-catching colors and textures on display. This is a flooring store, I [...]
Popularity of natural fiber rugs and wall coverings increases with availability and a quest for the natural aesthetic                                                    Natural wood, natural stone, accented with wool, sisal, jute or seagrass. Add a little leather, or maybe some cheena. While design trends have not turned back to thatched roofs and dirt floors, there is something distinctly desirable about a [...]
Authentic reclaimed hardwood can have advantages over wood that is made to look old "Distressed or old?" A designer that I work with was going back and forth about reclaimed hardwood and hardwood flooring that is purposefully distressed to make it appear old. "I like the idea of reducing wastefulness and landfill mass by making [...]
Styling, price and performance determine engineered hardwood flooring sales, though environmental attributes abound If you're thinking about putting engineered hardwood flooring in your home, style, performance and price – rather than the product's planet friendliness – are probably the points you are pondering. "More people in the Midwest are choosing engineered hardwood because of a [...]
Part I: Engineered hardwood flooring can be a greener option than solid, but there are many factors to consider before you buy We knew the day would come. Many of us in the green products industry pushed engineered wood floors because they require less premium wood to manufacturer than solid hardwood floors. Many customers resisted. [...]
Once available only in glue down tiles, floating floor construction widens the market for high-fashion, recycled leather flooring It wasn't the kind of job that a flooring retailer sees every day. The customer was an accountant who worked from her home. She wanted a distinctive floor for her home office, where she meets with clients. [...]
Recycled leather offers a high-fashion look that can also be planet- and indoor-air friendly Unique. Trendy. Upscale. We're not talking about a leather sectional. The customer who is building a home in Florida wants leather on the floor and walls. And Mike Smith, an account manager at ProSource Wholesale Flooring, says he will be delivering [...]
Recycled rubber underlayment and flooring lessen burden on landfills and curb illegal dumping If you're working with a flooring company that has explained proper installation, you already know that you need a durable underlayment for your new floating floor. If that company happens to be focused on durable "green" products, you also know that one [...]