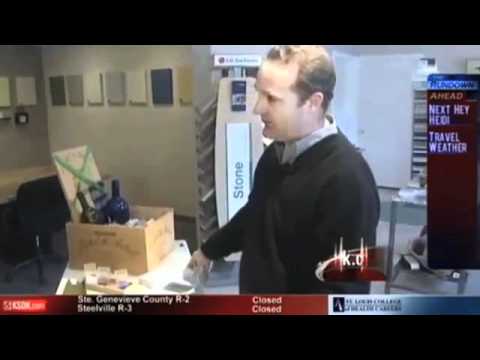 Meet IceStone, one of five people- and planet-friendly counter tops coming to our Milford, OH showroom
IceStone, made of recycled glass and cement, is a pioneer in recycled counter tops.
It offers colors that are unique among the brands that will be available in June at Carpetland Carpet One's Natural Interiors Design Center at 920 Lila Ave., Milford, OH.
IceStone requires periodic sealing for normal maintenance. Watch this space for upcoming information on the other brands we soon will be offering.
Unique accent walls and backsplashes are a natural fit for some flooring stores
I wasn't looking for tile, mosaics or recycled glass when I went to the Buddy's Flooring America store on Ridge Avenue in Cincinnati. But there was something magnetic about the eye-catching colors and textures on display.
This is a flooring store, I thought, but look at all of the options they offer for backsplashes and walls! And virtually every manufacturer offers something with recycled glass or recycled content , and tile is indoor-air friendly, too.
Okay, walls and floors must complement each other, so it makes sense to sell them together, particularly for bathrooms. But when there are so many cool options, how do you choose? Read the rest of this entry »
Greater Cincinnati's Annual Home & Garden show proves "green" products are here to stay, but knowledge of trends and environmental attributes is still playing catch up There was a time not too long ago when we had to search to find "green" products and companies at the annual Greater Cincinnati Home & Garden Show. But [...]