Demand for plant-based oil finish grows, along with regional and reclaimed hardwood flooring options
Not too long ago, customer inquiries in Greater Cincinnati about natural oil hardwood finishes were few and far between.
But today, Schumacher & Co. Custom Hardwood Floors seems to be using its zero-VOC (Volatile Organic Compound) plant- based oil finish every week.  And interestingly, many applications are in large commercial projects like the new Boca Restaurant in downtown Cincinnati.
The project features regionally manufactured Cherry and reclaimed oak flooring. While the people and planet-friendly attributes of the products are a given, there is another reason contractors are opting for the natural oil finish, says Roy Young, Schumacher's quality control manager. Read the rest of this entry »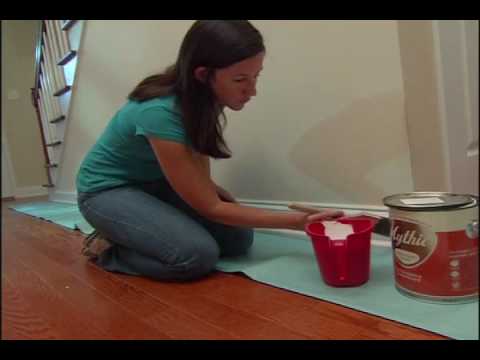 Choosing the correct color, sheen and more
Should you use flat, eggshell or semi-gloss? Do you paint the walls or baseboards first?
Mythic — the maker of zero-VOC paints — answers these questions and more, just in time for your spring painting project.
Natural oil hardwood flooring finishes gain popularity as consumers get more familiar with product benefits Some would say that using plant-based oils to finish a hardwood floor is unique. Not the norm, the road less-traveled and, possibly not suited for standing up to high traffic. But with the number of customers who are beginning to [...]
Natural oil finishes gain popularity as consumers get more familiar with product benefits Some would say that using plant-based oils to finish a hardwood floor is unique. Not the norm, the road less-traveled and, possibly not suited for standing up to high traffic. But with the number of customers who are beginning to ask about [...]
Editor's Note: Some slight changes have been made to this program. Click here to see the final line-up. Schumacher & Co. Custom Hardwood Floors launches first Natural Interiors® Floor Finishing Program Today's emphasis on measuring indoor-air quality relies heavily on the terms Low- and Zero-VOC (Volatile Organic Compound). But the EPA's regulation of VOCs – [...]
Natural oil that bonds gets thumbs up  The oil hardwood flooring finish we are testing in this blog works differently than those we've already shown you. It does not soak into the wood like the others. Instead, it forms a molecular bond with the first microns of the wood surface. It is spot-repairable like the [...]
Today's hardwood flooring finish choices should include low-  and zero-VOC products "Why are you testing dye or beeswax or tree sap?" For a moment, Tom Helwig, field supervisor at  Schumacher & Co. Custom Hardwood Floors, thinks we've gone over the edge. "Because," we tell him, "a growing number of customers don't want chemical emissions in [...]